If you haven't read the first two books in the trilogy don't read this review. I don't want to ruin who lives and dies for you. If you want spoiler free reviews of the first two books you can check out my review for The 5th Wave here and The Infinite Sea here.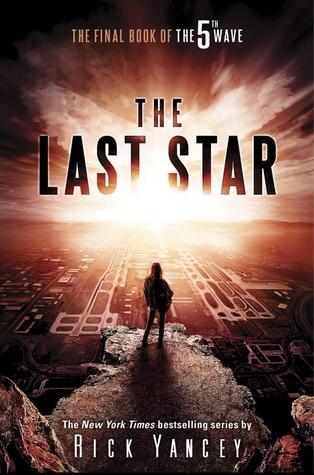 The Last Star was everything I wanted and more. The conclusion was great, heck the whole book was great. The plot was fast paced and kept me on my toes. I am still sad that I won't get to read more about these characters but I feel like it ended nicely and I'm satisfied.
Summary: 
The enemy is Other. The enemy is us.
They're down here, they're up there, they're nowhere. They want the Earth, they want us to have it. They came to wipe us out, they came to save us.
But beneath these riddles lies one truth: Cassie has been betrayed. So has Ringer. Zombie. Nugget. And all 7.5 billion people who used to live on our planet. Betrayed first by the Others, and now by ourselves.
In these last days, Earth's remaining survivors will need to decide what's more important: saving themselves…or saving what makes us human – goodreads
Favorite things:
Sam.I loved that  you could really see how much everything has changed Sam. He can't remember his ABCs yet he can build a bomb, he has grown up too fast and it's sad.
All the couples. So there is one couple that people seem to be really upset about. They keep talking about how there was never anything between these two characters and that Yancey just put them together because it had to be, but this is just not how I saw it. As much as I hated it these two had chemistry from the start and I have seen them getting together the whole time. So in a way I was kind of happy they finally got together.
The characters. I loved them for the same reasons I have in the first two books. They all have such great personalities and I have really enjoyed watching them grow and change.
The ending. If you have read the book you will understand why I have mixed feelings about the ending. That being said, it was really satisfying ending and I feel like it was a good conclusion for the trilogy.
Some favorite quotes:
"For some, death is the midwife to faith. For others, it is faith's executioner."
"Some things, down to the smallest of tings, are worth the sum of all things."
"You don't run from the people who need you. You fight for them. You fight beside them. No matter the cost. No matter the risk."
The quills:
Cursing?
There is a fair amount of cursing, it's not full of it; but there is use of the f word a little more often than I would like.
Physical romance?
There isn't a whole lot, but there is some and there is a fair amount of discussion about it.
Gore?
A little, but it's not terrible.
Will you cry?
Probably, I was very close to crying but I held it together.
Overall rating?
four out of five hedgehogs
The Author:
Rick Yancey, who you can follow on his website.
He has a pretty awesome and up to date Facebook page.
If you have read The Last Star, what do you think about it? Were you satisfied? Also, did you feel like Cassie was a tiny bit inconsistent in this one? I'm on the fence about it myself.