Important note: I really want to talk about to Rhysand and Tamlin, but I wanted to be able to do so with spoilers. I figured the best way to do this was by making a password protected post so that only the people who really wanted the spoilers would see it and those that didn't wouldn't have to worry about accidentally seeing a spoiler.  This is the link and the password is ACOTAR (all caps). I would love to read your thoughts and discuss this (or any other spoiler type topics) with you on that post.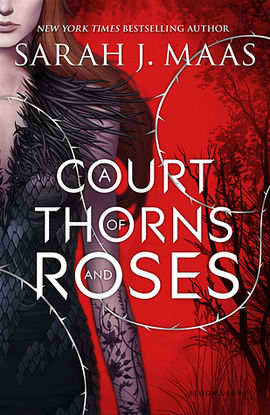 I don't normally read fantasy  books. I don't really know why, they just don't usually appeal to me. I decided that I needed to give one a try this past summer and see if my taste has changed. Since no one can seem to stop talking about A Court of Thorns and Roses, and the sequel I decided that it might be a good one to try.
I was not disappointed.  Maybe I am just overly impressed since I haven't read fantasy in a long time. This book was really good. It had me literally on the edge of my couch. I didn't know what was coming next or how it would end. I liked it so much that I can't wait to get my hands on the sequel. However, there are some things that I didn't like about it, things that might be deal breakers to some readers.
Summary:
When nineteen-year-old huntress Feyre kills a wolf in the woods, a beast-like creature arrives to demand retribution for it. Dragged to a treacherous magical land she only knows about from legends, Feyre discovers that her captor is not an animal, but Tamlin—one of the lethal, immortal faeries who once ruled their world.
As she dwells on his estate, her feelings for Tamlin transform from icy hostility into a fiery passion that burns through every lie and warning she's been told about the beautiful, dangerous world of the Fae. But an ancient, wicked shadow grows over the faerie lands, and Feyre must find a way to stop it… or doom Tamlin—and his world—forever. – Goodreads
This book is a mashup of Fairelore and fairy tale retelling.
Favorite things:
The writing. The writing was so good. It was beautiful and had a different feel to it than I am used to. The writing just pulled me into the world and made me never want to leave. Note: I'm not sure if this is a Sarah J. Maas thing or if this is a fantasy thing.
The plot. The plot was fast paced, and pretty intense. As previously stated, it kept me on the edge of my couch.
The characters. All of the characters were pretty well developed and I never had a hard time knowing who was who. I loved the humor they had and they were easy to connect to.  There really wasn't one character that I liked more than the others. That being said, I was always getting slightly irritated with Feyre. She was constantly making stupid decisions and doing the exact opposite of what she was told to do even though she was told it was for her safety.
The fairy tale elements. I love Beauty and the Beast and I loved seeing the elements throughout the story. However, I do feel like one of the biggest challenges in the story is missing here but I won't explain because, spoilers.  However, this review on Goodreads sums it up really well.
Some favorite quotes:
"I love you,' he whispered, and kissed my brow. 'Thorns and all."
"Because," he went on his eyes locked with mine, "I didn't want you to fight alone. Or die alone.
The quills:
Cursing?
The cursing wasn't bad in this book for the most part.
Physical romance?
The physical romance in this book is pretty heavy and descriptive. I would not recommend this to younger teens. It is also not just one scene you can skip. The topic comes up in thoughts and events several times. You've been warned, it is graphic and it comes up quite frequently.
Gore?
This book has a fair amount of gore in it.
Will you cry?
Probably not.
Overall rating?
Five out of five hedgehogs
The Author:
Sarah J. Maas, I haven't read any of her other books, but I plan to. I love that she had Pinterest boards with story inspiration that you can follow here. You can also check out her website here.