I have some mixed feelings about this book. This book wasn't what I expected it to be. It claimed to be different than The Fault in Our Stars, and it did deliver in that area. There is little to no romance involved, and what I thought was interesting is that even though Rachel (the dying girl) is the whole reason this story is even happening, I didn't feel like the story really included her all that much.
Summary: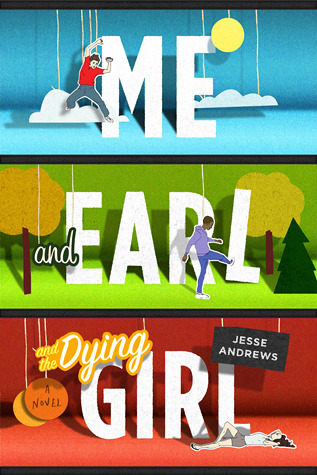 Greg Gaines is the last master of high school espionage, able to disappear at will into any social environment. He has only one friend, Earl, and together they spend their time making movies, their own incomprehensible versions of Coppola and Herzog cult classics.
Until Greg's mother forces him to rekindle his childhood friendship with Rachel.
Rachel has been diagnosed with leukemia—-cue extreme adolescent awkwardness—-but a parental mandate has been issued and must be obeyed. When Rachel stops treatment, Greg and Earl decide the thing to do is to make a film for her, which turns into the Worst Film Ever Made and becomes a turning point in each of their lives.
And all at once Greg must abandon invisibility and stand in the spotlight
Favorite things:
The formats. If you've been around here for awhile, you know that I love books with different and fun formats. This book had some great ones. I really loved the one with the newspaper headlines summing days up. It was a brilliant way to skip time without making you feel like you just jumped a week ahead without any warning. There were times when he summed up dialog with bullet points, and there are scenes written in script format.
Greg. I liked Greg, most of the time. The rest of it I spent annoyed with him. He seemed kind of whiny. At first I liked the paragraphs when he was like this book is so terrible, and I don't understand why you would keep reading it and on and on. When I first started reading this book I loved them, I thought they were really relateable and funny, but after a while they just got old.
The films. I loved hearing about all of their different films and film ideas. They were funny and entertaining to read.
Not so Favorite things:
The humor. Some of the humor was so vulgar I literally cringed. What Earl thinks is funny and what I think is funny are two very different things.
Some favorite quotes:
"When you convert a good book to a film. stupid things happen"
"I am the Thomas Edison of conversational stupidity."
The quills:
Cursing?
Yep, I think the f word is used a fair amount, and there is a lot of profanity.
Physical romance?
No, but it is graphically talked about.
Gore?
Not really
Will you cry?
I didn't, but I think there is a high chance that you will.
Overall rating?
3 out of 5 hedgehogs, it wasn't terrible but it wasn't one that I would recommend to my friends. I would have given it 2.5 but the different formats bumped it up to 3.
The Author:
Jesse Andrews here is his website.
I feel like I'm the only one who didn't find this book to be hilarious. Do you think that vulgar humor is funny? Have you read this book? Will you read this book?