This book met all of my expectations. It was funny, cute, and fast moving. I think this book has an excellent message that everyone needs to hear. It's a great reminder of how every choice we make has the ability to change someone else's life. This book also deals with some very relevant topics, like racism, and immigration.
Summary: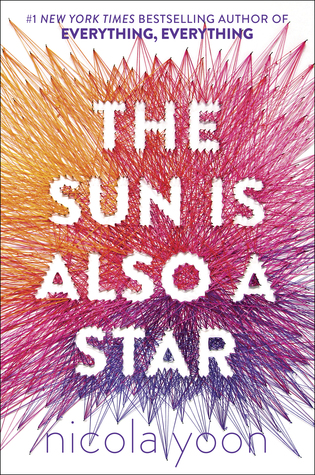 Natasha: I'm a girl who believes in science and facts. Not fate. Not destiny. Or dreams that will never come true. I'm definitely not the kind of girl who meets a cute boy on a crowded New York City street and falls in love with him. Not when my family is twelve hours away from being deported to Jamaica. Falling in love with him won't be my story.
Daniel: I've always been the good son, the good student, living up to my parents' high expectations. Never the poet. Or the dreamer. But when I see her, I forget about all that. Something about Natasha makes me think that fate has something much more extraordinary in store—for both of us.
The Universe: Every moment in our lives has brought us to this single moment. A million futures lie before us. Which one will come true?
Favorite things:
Dual point of views. They were amazing. Daniel and Natasha had very distinct voices, something that I feel like is often lost in YA dual POVs novels. I especially liked all of the chapters from minor/side characters povs. I loved seeing that outside perspective and how those characters decisions really affected Daniel and Natasha's day. My favorite was Irene, we had a total of less than 10ish pages with her, but I found myself thinking about her and caring about her almost as deeply as I cared about the main characters.
The plot. The whole book takes place over the course of 12 hours so of course it moves quickly. That being said I never felt like it was rushed.
That ending. This belongs in my favorite and not so favorite things. This ending made me cry from sadness and happiness on literally the same page.
Not so Favorite things:
There's only one thing that I didn't like. It's the one question that is left unanswered. What happened to her and Bev, her best friend?
Some favorite quotes:
"I didn't know you this morning, and now I don't remember not knowing you."
"Maybe part of falling in love with someone else is also falling in love with yourself."
The quills:
Cursing?
Yep, the f word is used a fair amount.
Physical romance?
There are some intense kisses, but it's all PG13
Gore?
Nope.
Will you cry?
I shed a couple of tears and had to resits the urge to throw the book at one point.
Overall rating?
Five out of Five hedgehogs.
The Author:
Nicola Yoon, be sure to check out her website.
Her debut novel, Everything, Everything is getting a movie! It comes out this year.
Have you read The Sun is Also a Star? If so who do you think you are most like, Daniel or Natasha?