I got my hands on this book a few months ago when I attended the North Texas Teen Book Festival (check out that post here). Because I had signed up with First in Line (which is now Underlined) I got a free ARC and a tote bag. The fact that I was given this book for free in no way affects my opinions on it. This is my honest review. Now onto the review.
I loved We Were Liars when I read it last year so my expectations for this book were pretty high and I'm glad to say that it met all of them. I'm going to keep this spoiler free because I'd hate to ruin it for you. I recommend planning to just stop whatever you're doing for a few hours and read this book in one sitting, it will make it easier to keep up with all the time jumps, you won't want to put it down anyway.
Summary: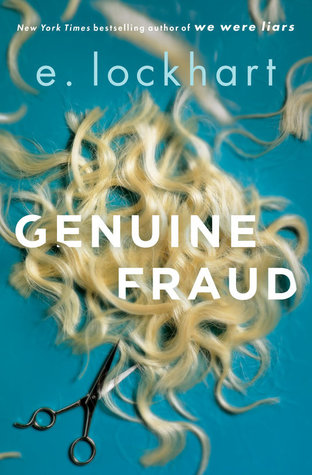 The story of a young woman whose diabolical smarts are her ticket into a charmed life. But how many times can someone reinvent themselves? You be the judge.
Imogen is a runaway heiress, an orphan, a cook, and a cheat.
Jule is a fighter, a social chameleon, and an athlete.
An intense friendship. A disappearance. A murder, or maybe two.
A bad romance, or maybe three.
Blunt objects, disguises, blood, and chocolate. The American dream, superheroes, spies, and villains.
A girl who refuses to give people what they want from her.
A girl who refuses to be the person she once was.
Favorite things:
This book is backwards. Literally. You start with one of the last chapters and then go backwards in time. This was a little complicated for the first two or three chapters but by then I was used to it and it was no big deal. Even though I had my guesses about what happened I was still surprised and loved seeing how details I learned in the first chapter (which is actually the end), tied together with the last chapters (which is actually the start of the story). The whole time my mind was just blown.
The strong female lead. Jule is one of the most strong female characters I've read. She is incredibly smart, strong, and she didn't take crap from anyone. However, I just didn't find myself rooting for her. I had sort of a hard time attaching myself to her.
The writing. This book doesn't have all the metaphors that We Were Liars has and while the writing isn't as poetic I loved it just as much. E. Lockharts attention to details is amazing. I can't think of one string that was left untied.
Not so Favorite things:
I just didn't really love any of the characters (for reasons I won't go into because of spoilers).  But I don't think this is one of those books were you need to like to characters to keep reading.
The quills:
Cursing?
There really isn't all that much cursing but the f word is used multiple times.
Physical romance?
She walks in on her roommates at one point but it's not really graphically described.
Gore?
Yes
Will you cry?
Probably not
Overall rating?
Four out of five hedgehogs
The Author:
Extras:
This book comes out tomorrow (September 5th 2017). You can check out the book trailer here.  E. Lockhart actually went to one of the places this book takes place and took pictures you can see them here. 
When you get your hands on this book please let me know, I need people to talk about this with!